About 3 Legged Thing Punks Billy 2.0
The new evolution of Punks tripods
Billy 2.0 is a 100% pure carbon Fiber tripod and is one of the lightest tripods in the Punks 2.0 range. Billy 2.0 is built to withstand the rigours of everyday use.

Planes, Trains and Automobiles
Billy 2.0 is incredibly versatile, designed for all types of photography and an ideal choice for travel, weighing in at just 1.57 kg / 3.46lbs and folding down to 45.7cm / 17.9". Billy 2.0 is your ideal companion for photography on-the-go.

Incredible range
Extending to 1.66m/ 65.3" and able to work as low as 11.8 cm /4.6", Billy has a wide range of working heights as well as being able to support up to 18 kg / 40 lbs.

Jaw Dropping
Like our other Punks 2.0 tripods, Billy 2.0 has three detachable tripod legs which allows for a plethora of configurations including use as a monopod or boom arm as well as a table-top tripod (with use of additional footwear).
3 Legged Thing Punks Billy 2.0 Features
Three detachable legs, enabling conversion to monopods or booms, or to table-top tripod with the addition of 3LT's Vanz tripod feet (sold separately)
Improved engineering and increased stability in leg lock, weighted to lower their centre of gravity making the tripod more stable
Removable and reversible centre column
Tri-Mount plate has been refined and offers three hollowed spurs for accessory attachments
1/4"-20 Accessory mount on tripod canopy
3 Legged Thing Punks Billy 2.0 5-Section Carbon Fiber Travel Tripod with AirHed Neo 2.0 Ball Head, Blue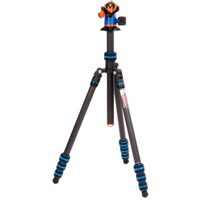 3 Legged Thing Punks Billy 2.0 5-Section Carbon Fiber Travel Tripod with AirHed Neo 2.0 Ball Head, Blue
Brand: BILLYBLUE2.0
Product Code: 3LTBBLUE20
Availability: In Stock
Tags: travel tripod